04 March, 2016
New research shows simple lifestyle changes can reduce glaucoma risks – World Glaucoma Week (6-12 March)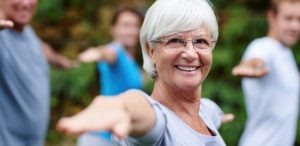 Recent research into the causes and management of glaucoma show that certain lifestyle choices and activities can impact your intraocular pressure which is one of the most important risk factors in glaucoma. It is essential for those at risk to be monitored because fluctuation in the eye pressure plays a key role in the disease's development and progression. World Glaucoma Week (March 6-12) is the perfect time to discuss your eye health with your optometrist.
Tony Ireland local optometrist at EyeQ Optometrists Ulladulla explains, "Some of the activities that put glaucoma sufferers at risk are things that we do every day – and can be healthy and wonderful parts of our life. Unfortunately they can intake crease intraocular pressure (IOP), which is the pressure within the eye, and this can be a problem if you have glaucoma."
"A recent study published by researchers at New York Eye and Ear Infirmary of Mount Sinai, in the journal PLOS ONE*, has found that people with glaucoma may have increased eye pressure when doing head-down positions during yoga practice. The new research shows us that by limiting these activities we can slow the progression of the disease in some people."
People with a history of glaucoma in their family are ten times likely more to suffer themselves, so awareness is a big step towards prevention for those people says Tony.
Lifestyle choices, such as some yoga poses, are known to affect intraocular pressure. These include, but not limited to, swim goggles and some strenuous muscular effort such as push-ups and bench presses.
"Seeing an optometrist who can help you maintain the lifestyle you want, but limit the risks to your vision, is a good idea for everyone, but especially those with glaucoma, or a history of glaucoma in their family," advises Tony.
"It is vital to be out enjoying an amazing lifestyle, but it's also critical we have our vision monitored by experts as our lifestyle and family history can impact our eye health in ways we may not be aware," adds Tony.
To find out more about factors that may affect your likelihood of developing glaucoma and the steps you can take to help prevent it, book an appointment with your local EyeQ Optometrists.
* Jasien JV, Jonas JB, de Moraes CG, Ritch R (2015) Intraocular Pressure Rise in Subjects with and without Glaucoma during Four Common Yoga Positions. PLoS ONE 10(12): e0144505. doi:10.1371/journal.pone.0144505