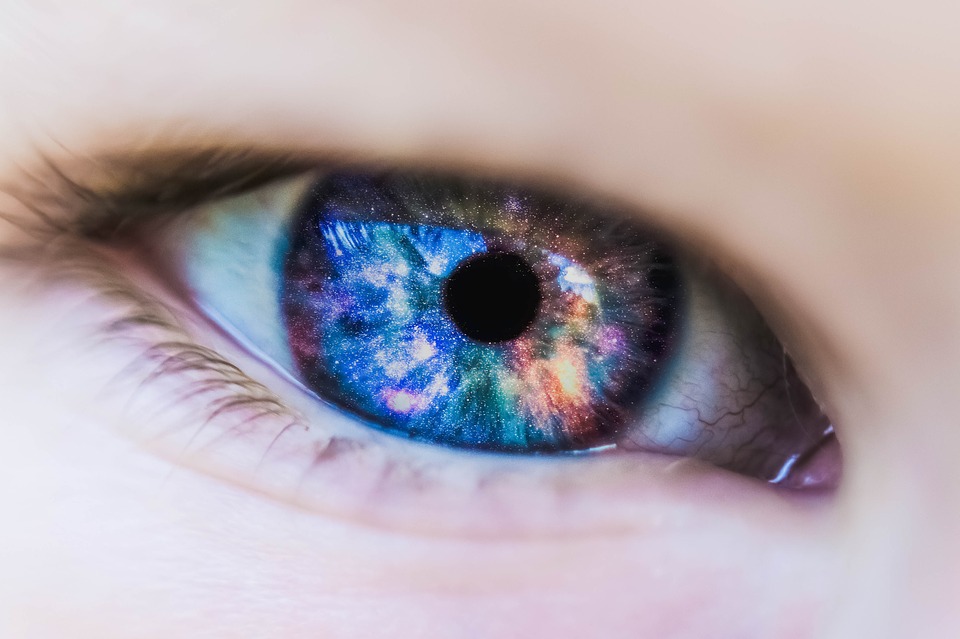 23 December, 2022
Coloured Contact Lenses
Day in and day out many of us invest in beauty products, treatments and procedures to make us feel and look better but have you ever considered changing your look by changing your eye colour? With coloured contact lenses readily available, it has never been easier to give yourself a new look for any occasion whether it is just for fun, dressing up as a movie, tv show or gaming character, a fancy dress event or to finish your look for a night out.
Hollywood celebrities have long embraced the rising trend of coloured contact lenses, whether to transform for a role or to enhance their glamour quotient. It's this celebrity influence and high usage of social media that has seen the market for people who wish to change their eye colour to suit their look very accessible.
How Do Colour Contact Lenses Work?
Coloured contact lenses are designed to change the appearance of your eyes. They can be used for cosmetic purposes, to enhance your natural eye colour, to correct vision problems, or both. Coloured contact lenses are made from a variety of materials, including acrylate, polymethacrylate, silicone hydrogel, and hydrogel. They can also be used to correct vision conditions such as near-sightedness, farsightedness, and astigmatism. Coloured contact lenses are also available in corrective powers ranging from +6.00 to -8.00.
These must be fitted by an eye care professional to ensure that they provide the desired results and that they do not cause any damage to the eye.
Are Coloured Contact Lenses Safe?
Coloured contact lenses are a great, safe way to change the colour of your eyes, as long as you purchase them from a reputable optometry retailer and talk with an optometrist about your prescription. However, as coloured contact lenses have continued to rise in popularity, so too has the number of questionable manufacturers to help fill the demand.
Over the past couple of years, there's been a subtle resurgence of coloured contact lenses from overseas vendors. These cater to specific customers i.e., beauty influencers who prefer lenses in striking shades of hazel and grey, while Uniqso is a haven for cosplayers who aim for vibrant, distorted-looking circle lenses. And this is where buyers should exercise caution when purchasing decorative lenses online. Contacts sold online from overseas vendors are comparably cheaper and can be bought as singular pairs.
Still, the problem is that there's such a vast marketplace of options that some products — especially ones that can be obtained without a prescription — might not be tested as safe for use. Since the market for coloured contacts is so big, market researchers aren't certain of the risk customers can be exposed to. If you fit into the category that you will continue to purchase decorative lenses, it's not all bad news. Coloured contacts aren't harmful provided you are purchasing from reputable retailers who sell genuine brands like Freshlook and Air Optix.
Coloured Contact Lens Range
At EyeQ, we offer a range of prescription coloured contact lenses to suit your colour preference, frequency of use and prescription. Whether you need vision correction or simply want to change things up a little, coloured contact lenses allow you to achieve both. Our coloured contact lenses buying guide offers a full range of tips on what to do to get a prescription, replacing your colour lenses and much more.
Air Optix Colors
Air Optix® Colors creates a beautiful look that blends in with any eye colour. With a combination of stunning colours, comfort and breathability, Air Optix® Colors are made with the unique SmartShield® technology known for creating an ultra-thin protective layer. This helps reduce discomfort by keeping your lenses smooth and moist, shielding your lenses from irritating deposits and making wearing monthly lenses a more comfortable experience. If you are already wearing Air Optix® contact lenses, you can go into Air Optix® Colors without the need for a refit from your optometrist.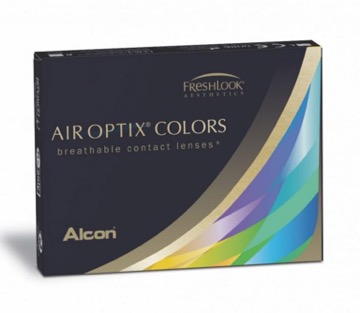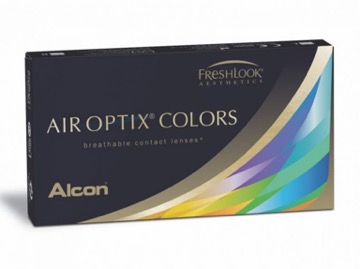 Air Opxtic Colors come in a 2 pack or a 6 pack  with a variety of colours available including Amethyst, Blue, Brilliant Blue, Brown, Gemstone Green, Gray, Green, Honey, Pure Hazel, Sterling Grey, True Sapphire and Turquoise.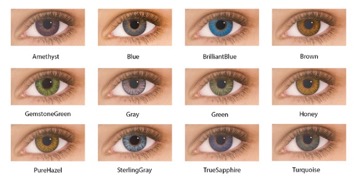 Freshlook Colorblends
Freshlook Colorblends colour contact lenses provide a natural eye colour change through their unique 3-in-1 technology. This high-quality technology combines 3 colours into 1 to create the subtle, natural depth of beautiful eyes.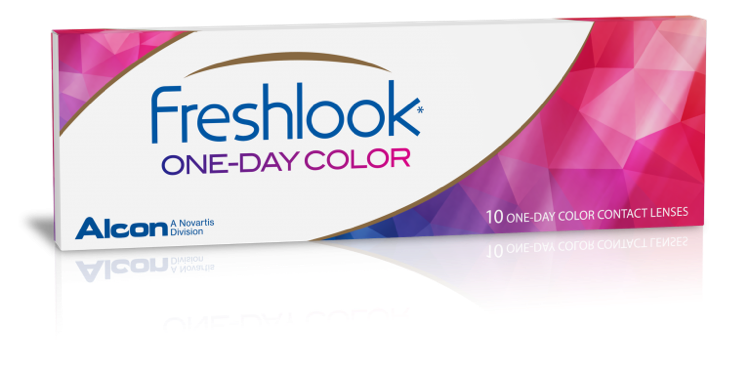 These fortnightly contact lenses come in a 2 pack or a 6 pack and come in 11 different colours depending if you want a subtle change coming from colours including Blue, Brown, Grey, Green, Pure Hazel, True Sapphire or Turquoise, or a noticeable change from colours including Brilliant Blue, Honey, Gemstone Green, Honey or Sterling Grey.

---
Our EyeQ Service Guarantee
At EyeQ Optometrists we're committed to delivering the very best eye care, and that includes excellent service when it's time to make a coloured contact lenses purchase. That commitment is backed up by our Customer Assistance team, available from 9am to 5pm Monday to Friday.
And because we want to make sure you have the right solution for your vision needs, we'll exchange contact lenses you've bought from EyeQ Optometrists if your script changes. The only conditions to this exchange are:
The returned lenses must have been bought online from EyeQ Optometrists
You must be able to provide proof of purchase (this could be the invoice you received or the order confirmation we sent you when you first placed the order)
The box and product must not have been opened or damaged and must have more than 6 months remaining before expiry date.
And of course, if the product you were supplied had a fault or an issue with quality, you are covered for replacement under Australian Consumer Law. You are entitled to a replacement or refund for a major failure and for compensation for any other reasonably foreseeable loss or damage. You are also entitled to have the goods repaired or replaced if the goods fail to be of acceptable quality and the failure does not amount to major failure.
A visit to your local EyeQ optometrist is the best way to start the process. Whether you are already a contact lens wearer or are considering contact lenses for the first time, remember that professional advice from an optometrist is required to determine your contact lens prescription. Your optometrist will be able to advise you on the types of contact lenses best suited to you, and on the different colours available. They will also ensure the correct fit, material, size, curvature and power, use and care of your contacts for your eyes and lifestyle. It's possible to change your look but do it safely so that you can shine and ooze confidence at your next event or night out! If you're thinking of using prescription coloured contact lenses, make an appointment with your local EyeQ optometrist today!