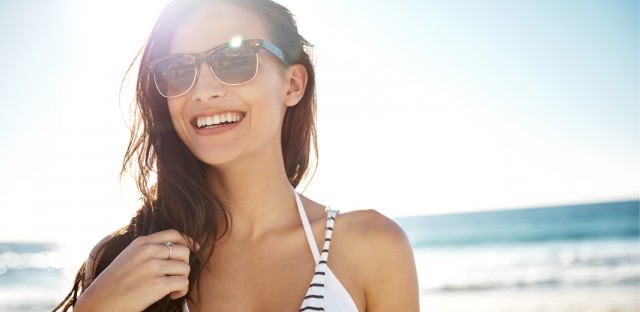 19 December, 2016
The difference between quality sunglasses and cheapies
We're often asked what the difference is between a good quality pair of sunglasses and a cheapie. Fashion can play a part in price – but the most important aspects are the very real consequences to your eye health.
Our skin needs protection from the sun but our eyes are also vulnerable and need looking after. Long-term exposure to ultraviolet rays, especially UVB, can damage the eye's surface and internal structures, contributing to the development of retinal damage, cataracts, macular degeneration or some cancers in the tissues around and within the eye.
EyeQ Optometrist (Nowra and Vincentia) Peter Rose, says "It's important we all wear quality sunglasses and a hat when venturing outdoors into the sun, even for short periods. Many people don't know that more UV reaches the back of the eye when the sun is low in the sky than in the middle of the day – so it's a good idea to wear sunglasses earlier and even later in the day than you possibly would normally. Sun damage to the eyes is less noticeable but just as real as sunburn to the skin. The good news is that it can be easily prevented with the right pair of sunnies."
Not all sunglasses offer the same critical protection from strong UV light – but how can you tell the difference between a good quality and a lesser quality pair? Here are some points to keep in mind when shopping for sunglasses:
UV Radiation – This is the most important feature to look for. Aim for a 100% blocking rate and check what type of lens material it is made of. Polycarbonate lenses block 100% of UV light. Many cheap sunglasses will use inferior lens material such as triacetate, which absorbs only about 40% of radiation.
Lens Colour – Don't be fooled by the dark tint of lenses as they are no indication of UV protection. Cheap dark glasses could actually make things worse by reducing some of the light, causing your pupil to slightly dilate and allow more light in. This dilation lets in more UV light as well, increasing your exposure instead of protecting you! Check the label and ensure the glasses conform to the Australian/New Zealand standard AS/NZS 1067:2003 Sunglasses and Fashion Spectacles. Lens categories 2 and 3 are good options.
Polarized or not? – Polarized lenses are advisable when living in Australia. Our country experiences very high levels of UV radiation because of its exposure to the southern hemisphere's thin ozone layer and proximity to the tropics in much of the country. This is exaggerated by many clear, blue-sky days. Particularly during summer, distracting glare can affect your vision when you drive on shiny road surfaces or are on the water. Polarized lenses not only protect you 100% from UVA and UVB rays but cut out this reflected glare.
Fit – You can maximise sun protection by making sure the frame sits snugly around your eyes as UV light can get to your eyes from the gaps between your face and sunglasses.
So before heading into the sun, come and see your local EyeQ Optometrist. The team will guide you through our great range. You can walk out with a perfect pair with quality lenses that complement your face shape and at a price that suits your budget. Book your EyeQ appointment by clicking here. Protect your eyes and enjoy the summer!