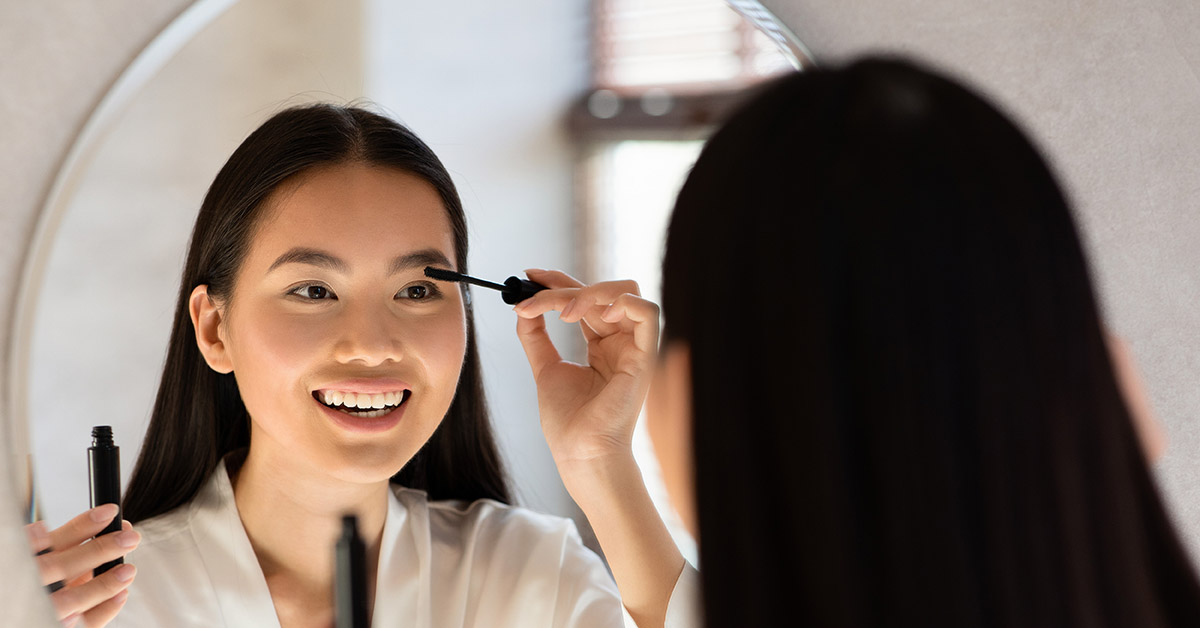 16 March, 2022
Good make-up hygiene
When using eye makeup, it's important to maintain good hygiene and use products appropriately. Your eyes are delicate organs! The eye area contains some of the most sensitive skin on the body, making it vulnerable to infection and irritation from eye makeup. Eye cosmetics are generally safe materials, as long as they are used properly. We will cover some tips and tricks to safely use eye makeup.
Eye Makeup Safety Tips
Follow these basic steps to protect your eyes while using makeup. If you have questions about your cosmetics routine, ask your Optometrist.1
Before applying make-up
Only use cosmetics that are designed for use around the eyes. Avoid products that contain untested or harsh chemicals.
Make sure the product isn't expired. Eye makeup products should be thrown away after three months. Infection-causing bacteria grow easily in creamy or liquid eye makeup.
If you have a red, sore or irritated eye, take a few days break from wearing eye makeup.
Never share eye makeup, even with family or close friends.
If you wear contact lenses, put them in before you apply makeup.
When applying make-up
Always apply makeup outside the lash line, away from the eye, to avoid blocking the oil glands of the upper or lower eyelid. These glands secrete oil that protects the eye's surface. It is popular to apply eyeliner inside on the rim of the eyelid, also called the water line. Studies have shown that those who applied the liner along the lash line experienced a higher volume of particles in their tear film than those who applied it outside the lash line. This increases the chance of infection and irritation.1
Never apply makeup while in a moving vehicle.
Don't pump the mascara wand as it introduces air and bacteria into the bottle.
Be gentle with your eyelashes and the delicate areas around your eyes. Eyelashes are important for keeping dust and dirt out of your eyes. They also keep your eyes from drying out by blocking air movement over your tear film.
Removing make-up
Remove all eye makeup every night before sleeping, especially mascara that can stick to the lashes. If not removed properly, eye makeup can cause irritation. Cleansing your eye area can also clean away some of the lid margin bacteria and skin cells that contribute to dry eye.
Whatever eye makeup remover you use, avoid getting it in your eyes. Thoroughly rinse any remover off your eyelids.
Be especially careful with exfoliating scrubs and don't use them around your eyes. Cleansers with scrubbing beads or gritty additions can scratch and irritate your eyes.
Remove your contacts before taking off your makeup
Key Messages
Be mindful of hygiene
If you develop an eye infection, immediately throw out all of your eye makeup and don't use eye makeup until the infection is gone.
Stop using any makeup that causes irritation
If any eye cosmetic causes irritation, stop using it immediately. If irritation persists, see an Optometrist.
Insert contact lenses before makeup application
The number one rule is to always wash your hands first then put your contact lenses in before applying makeup or moisturiser.
Contact lens wearers should never use waterproof mascara as it's impossible to remove if it gets onto the lens2
Remove your contacts before taking off your makeup
Even if you use a gentle makeup remover on the eyes and carefully wipe off makeup from the lids, there is a chance of contaminating the lenses or damaging them, so take your contacts out before you take your makeup off.
Conclusion
Put simply, by applying makeup correctly and practicing good hygiene techniques, you can avoid many unwanted eye problems.
References
D Gudgel, "How To Use Cosmetics Safely Around Your Eyes," American Academy of Ophthalmology, 24 March 2021. [Online]. Available: https://www.aao.org/eye-health/tips-prevention/eye-makeup .
CooperVision, "Makeup for Contact Lens Wearers," CooperVision, 2021. [Online]. Available: https://coopervision.net.au/eye-health-and-vision/makeup-and-contacts