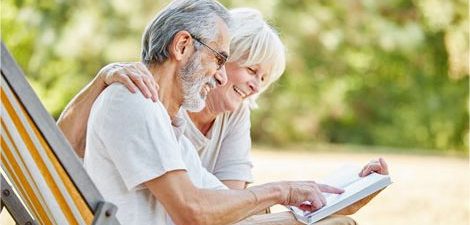 03 May, 2021
Age Related Macular Degeneration
What is age-related macular degeneration?
Age-related macular degeneration (AMD) is a chronic eye disease which causes damage to the macula. The macula is the central area of the retina within the eye that controls visual acuity. AMD causes progressive loss of central vision however peripheral vision is left relatively unaffected.
Age-related macular degeneration is responsible for half of all blindness and severe vision loss in Australia with about 1 in 7 Australians over the age of 50 years showing some signs of AMD. Approximately 17 percent of these people will experience vision impairment and almost 15 percent of Australians over the age of 80 have vision loss or blindness from AMD.
Symptoms of AMD
You can have early signs of age-related macular degeneration without even knowing. During the early stages and onset of AMD, you may not notice any symptoms. Macular Disease Foundation Australia lists the following symptoms as the disease progresses:
• difficulty reading or any other activity which requires fine vision, even when wearing glasses
• distortion, where straight lines appear wavy or bent
• difficulty or blurred patches in the centre of your vision
• the need for increased illumination, sensitivity to glare, decreased night vision and poor colour sensitivity
If you notice any changes in your vision, never dismiss this as just part of getting older. The earlier AMD can be diagnosed, the better. That's why regular, comprehensive eye examinations are essential to good eye health.
Detecting, diagnosing and monitoring AMD
Your local EyeQ optometrist may use a variety of tests to detect AMD including retinal photography, optical coherence tomography (OCT) and pupil dilation. Early detection of age-related macular degeneration is crucial to saving sight. If you notice any sudden changes to your vision, it is important to make an appointment to see your optometrist as soon as possible.
Your optometrist may provide you with an Amsler grid to take home which is an easy-to-use self-monitoring tool to help detect changes in your central vision. You can also request one by emailing us.
Who is at risk of AMD?
There is no known cause of AMD however it is linked to several factors including:
• age – those over the age of 50
• have a family history of AMD
• are a smoker
• have hypertension or cardiovascular disease
• have a history of increased UV exposure
AMD Treatment
There is no cure for AMD however some treatments may delay its progression or improve vision. Treatment options will depend on whether the disease is in the early or later stages and whether its dry form or the more advanced wet form. It's important to note that dry AMD can turn into the more severe wet AMD which again is another reason to maintain regular eye tests.
For early, intermediate or late-stage dry AMD, changes to diet and lifestyle may help slow down the disease. Consider your nutrition, exercise and overall lifestyle and seek out ways to improve these in an effort to support overall well-being.
There are a number of medical treatments available for wet AMD. These treatments are not a cure but can help stabilise and maintain vision for as long as possible.
A protein called Vascular Endothelial Growth factor, or VEGF, is predominantly responsible for the leaking and growth of new blood vessels that result in rapid and severe vision loss which, if left untreated, becomes permanent. The most common treatment for wet AMD is delivered in the form of regular injections to the eye which help block this protein.
If you have concerns about your vision please make an appointment with your local EyeQ optometrist.