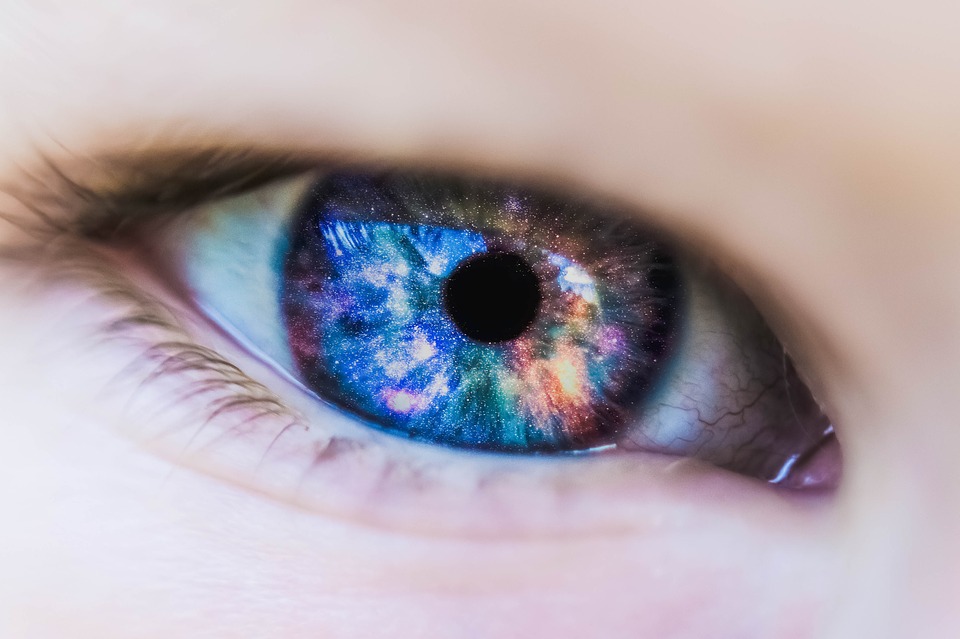 24 May, 2021
Coloured contact lenses
You may have seen images of Kim Kardashian's luminously golden Versace red carpet appearance at the 2018 Met Gala Ball, but did you notice she also 'styled' her eyes to complement her outfit?
And as is the way these days, we were told about it via an Instagram post from the glamour girl herself.
"This year at the Met, I wanted my glam to complement my 90s-inspired dress. We chose honey-coloured contacts that weren't too far off from my natural eye colour, just a bit brighter," said Kardashian.
An unsurprising move we suppose, given her husband Kanye West debuted blue eyes on the Met Gala red carpet in 2016.
But let's face it, they're not alone. Hollywood celebrities have long embraced the rising trend of coloured contact lenses, whether to transform for a role (such as Orlando Bloom wearing light blue lenses over his naturally dark brown eyes in Lord of the Rings or Jessica Alba wearing blue contacts to match her new blonde hair in the Fantastic Four) or just to enhance their glamour quotient.
It is this celebrity influence and high usage of social media that has seen the market for people who wish to change their eye colour to suit their outfit / mood / costume very easy and accessible. Since 2019, the marketing platform of choice is Instagram instead of YouTube and decorative contacts aren't just worn by beauty gurus, makeup artists and micro-influencers trying to become the next big-name influencer, but also the every day person.
Trouble is with the increase of this popularity; many questionable manufacturers have surfaced to fill the demand. Over the past two years, there's been a subtle resurgence of coloured contact lenses from overseas vendors.
Theses cater to specific customers ie: beauty influencers who prefer lenses in striking shades of hazel and gray, while Uniqso is a haven for cosplayers who aim for vibrant, distorted-looking circle lenses.
When Caitlin Alexander ran an alternative fashion blog in 2015, she cycled through five different pairs of circle lenses a week, with colours ranging from electric blue to mustard yellow. It was a rebellious habit, one she stopped shortly after a pair of "bad contacts" severely impaired her vision for a day.
She had worn a pair of soft pink lenses from Uniqso (an overseas vendor) for eight hours the day before (as she usually does) and woke up with eyes that were extremely sensitive to light. "When I took those pink contacts out at night, my eyes were slightly blurry," the 28-year-old recalls. "But the next day, I couldn't even look at any light source and couldn't see right for a few hours."
And here is where buyers should exercise caution when purchasing decorative lenses online. Contacts sold online from overseas vendors are comparably cheaper and can be bought as singular pairs. Lenses retail for as low as $15 a pair before shipping costs, but prices vary depending on the contacts' length of wear, prescription and brand.
Still, the problem is that there's such a vast marketplace of options that some products — especially ones that can be obtained without a prescription — might not be tested as safe for use. Since the market for coloured contacts is so big, market researchers aren't certain of the risk customers can be exposed to. The bigger question remains: Are customers aware of this risk? And if so, will they care enough to stop buying them?
If you fit into the category that you will continue to purchase decorative lenses, its not all bad news. Coloured contacts aren't necessarily harmful and there are regulated and reputable brands like Freshlook, Air Optix, and Acuvue.
A visit to your EyeQ optometrist is the best way to start the process, as whether you are already a contact lens wearer or are considering contact lenses for the first time, remember that professional advice from an optometrist is required to determine your contact lens prescription.
Your optometrist will be able to advise you on the types of contact lenses best suited to you, and on the different colours available. They will also ensure the correct fit, material, size, curvature and power, use and care of your contacts for your eyes and lifestyle.
Whatever your reasons for choosing decorative lenses, be sure your purchase and advice comes from a reputable organisation and exercise caution when it comes to advice given by influencers on Instagram.
It's possible to change your look but do it safely so that you can shine, dazzle and ooze confidence at your next event or night out!
If you're thinking of changing up your eye colour make an appointment with your local EyeQ optometrist today!